The anti-corrosion treatments and practical antishock solutions combine utmost durability, cleanliness and practicality to safety.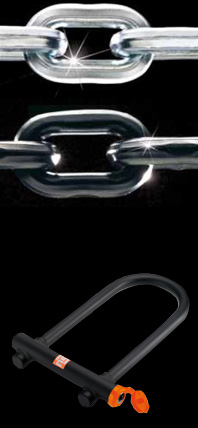 The anti-theft devices for motorcycles are durable and intended to work in the worst operational conditions, exposed to bad weather, shocks and many other stresses. This is why Maggigroup combines the most suitable anti-corrosion and anti-wear treatments to their structural realibility, in order to keep them fully efficient and brand new, even after a long period of time and in any condition of use. The cataphoresis treatment is particularly ideal, which covers the metal with an unmistakable, highly protective layer of black colour, tested for reliability with over 500 hours in enviroment with saline mist.
Maggigroup's attentions extend to the preliminary protection of the devices, also against passive damages caused by daily use: in this respect, particularly interesting is the choice to adopt solutions that maintain the padlocks and dynamic opening/closing devices lifted as much as possible from the ground, thus protecting them against shocks with suitable anti-stress guards. Such care is extended to the vehicle, with particularly sturdy protective sheahts, but with soft interior, that avoid scratching or damaging chromed and painted parts. Cleaning and comfort are also privileged with the choice to equip the anti-theft systems with suitable bags/containers to store and carry them.

Maggigroup was the first to introduce the cataphoresis process on the market, already extensively used in the automotive sector, as suitable anti-corrosion method for its chains.

Maggigroup does not overlook the importance that a particular protective rubber or plastic finish may cover, in terms of durability and for the protection of the precious chromed parts of the chassis. Special high visibility colours point out, as in nature, that the vehicle is protected and remind the owner if the device is engaged or not.