Innovation and patents
Research and Development
A constant commitment to obtain safer, more efficient and user-friendly devices.
Maggigroup technicans are constantly at work to develop innovative ideas aimed at safety. A commitment that continues to translate in original and patented solutions.
The research ranges from field to field to improve and optimise not only the reliability against theft attempts, but overall the efficiency and practicality of any device adopted. Thus unique solutions were conceived, like the chain able to form a double loop and allow securing your motorcycle to poles and fixed supports more safely and easily.
Worldwide specialist in the production of chains, Maggigroup has ultimately perfected the concept of chain, proposing significant innovations that led to a remarkable evolution in the sector: thus the pentagonal link chain was born, with smoother corners, thus boasting higher resistance againt cut and shearing. According to the same scopes and principle, the armoured chain was conceived, covered by an anti- break in rigid plate, characterised by a particular shape and a protective layer that any tampering attempt is almost impossible.
The numerous national and international homologations boasted by Maggigroup devices prove the quality of this research effort and the results attained. In this respect, NF homologation stands out which foresses extremely strict tests, among which the cutting and shearing tests carried out with the most challenging break-in systems and loads.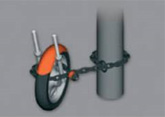 Fort Knox T'win
Maggigroup, careful to the needs of today's motorcyclists, studied the best solution to secure the motorcycle to a fixed body. Thanks to the double loop, it is possible to fully exploit the length of the chain without forcing the motorcyclist to perform difficult movements to position the motorcycle near the pole. The best solution also for who travels with two motorcycles and expects utmost safety with mininal use of space.

Patent nr.MI2003U 000615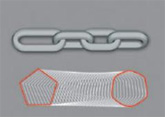 Fort Knox series
Maggigroup innovated the anti-theft chain with a unique proprietary concept; the special pentagonal link section of the Fort Knox line is studied to ensure a difficult grasp to hand clippers, featuring an oblique side parallel to the blade of the clipper, thus hindering the cutting action and distributing evenly on more points, the concentrated action of the jaws' force. Choose the best solution with pentagonal section among the Kompact, Twin, Fort Knox, Duplex and Tank lines.

Patent nr.01115961.3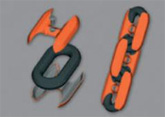 Fort Knox Tank
The anti-theft chain features nowadays a new unbreakable shell, result of Maggigroup's creativity and technology. The special armoured plates that cover this chain stiffen it transversally, improving resistance against the combined action of saws, hammers and clippers. The special finish in thermo-plastic material confers a trendy look to the chain, and allows avoiding the use of sheaths that could be damaged or dirtied with time.

Patent nr.MI2004U 000224
Quantus srl - Legal and operational office: Parco Scientifico Tecnologico COMONExT Via Cavour, 2 - 22074 Lomazzo (CO)